Matt Danner
Templeton, IA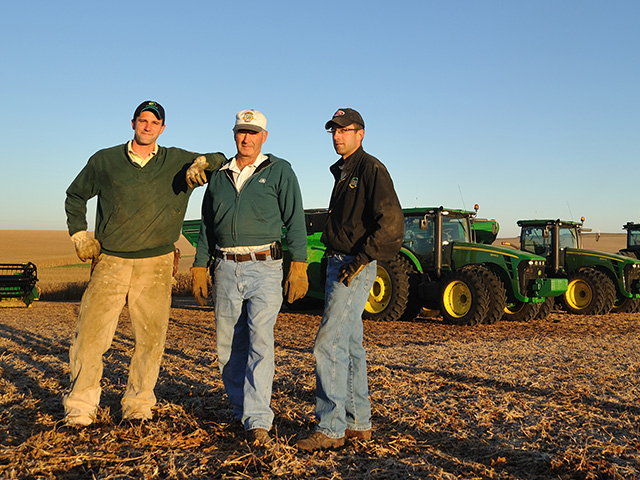 Every Acre Works
Matt Danner helps manage a farm defined by an entrepreneurial spirit.
When the fist of the 18th Amendment decreeing Prohibition fell across the land in 1920, the few hundred residents and farmers of Templeton, working the land around this small, west-central Iowa town, discovered an unexpected opportunity–whiskey.
Produced in the back rooms of homes and in the dark corners of outbuildings, the brown-colored drink earned a following that reached all the way to the table of Chicago mobster Al Capone. Templeton Rye (distilled first with corn, later rye) is said to have paid many a farm mortgage. A gallon earned serious money–equal to about $70 today. It still is produced today, with legal license.
"Our family–and some of the neighbors–were involved during the Prohibition era," says Matt Danner, 33, who farms with his father, Rich, and brother Chris. "We are part of the legacy and heritage of it, but not the current production."
It is a bit of a stretch perhaps, to draw a straight line between the farm that had a hand in the production of illegal whiskey and the high-tech corn, soybean and hog operation managed by the Danner partnership today.
But the entrepreneurial spirit that kept this farm alive in those Prohibition years is evident in Matt and the farm, now 125 years in business. The Danner farm is not a place for the uninspired.
Go to the Templeton Family Farms web site (www.templetonff.com) and find a scroll of quotes that inspires a family and its farm. Two in particular seem to apply.
"There is no shortcut to achievement. Life requires thorough preparation … " –George Washington Carver.
"Even if you're on the right track, you will get run over if you just sit there." –Will Rogers.
Preparation. Using time to make progress, words that describe well the Danner farm and Matt himself.
Off the farm, the Danner family serves on a variety of boards and organizations. Matt is serving on the Iowa Soybean Association district advisory board. "We believe it's important to work locally to communicate agriculture's presence," Matt says. "We need to promote awareness of where our food, fuel and fiber come from."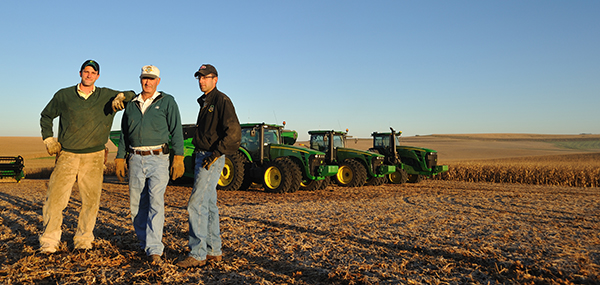 Matt has been working his way into the farming operation by focusing on work that others do not like to do. "I asked the team, 'What don't you like to do?' And that's what I started to do." In addition to farming with his brother and father, Matt got the office. From his desk, he manages data collected from all the farm's operations.
"Our family does a lot of planning," Danner says. "Our spreadsheets and action plans are finished before we enter the field each season. We set our plan for grains, trucking, fertilizer, tillage, manure and seed a year ahead of time."
Information becomes plans. Plans become production. Production unearths data the Danners use to inform future production decisions. It's a deliberately circular approach to management–one step informing the next, one growing season suggesting direction for the next.
"We try to take farm data and turn it into solid management action," Danner explains. "We want to make every acre stand on its own."
That process is evident when you turn off Iowa State Highway 141 and onto Kittyhawk Avenue, a gravel and dirt road. Atop a distant hill stands a grain storage site. Steel bins and grain legs shimmer Oz–like against the blue fall sky. Ten years ago, Templeton Family Farms invested in its own grain-drying system. This past summer, the Danners added 130,000 bushels of storage, high-capacity grain legs and a tower dryer with twice the capacity.
"We want to keep two 12-row combines running," Danner says. "Drying our grain immediately at harvest also gives us a better product to sell in the marketplace."
Templeton Family Farms has working familiarity with a variety of markets. There are its corn and soybean production arms. Much of the corn goes to a POET ethanol plant in nearby Coon Rapids. Most of the soybeans are for seed, delivered to two local seed companies.
Instead of letting the farm's Peterbilt semis, with their belly dump trailers, sit for most of the year, the farm formed Templeton Area Transfer. It delivers grain during harvest and lime, dirt, sand and rock in the off-season.
The swine business, Double D Pork, feeds weaned and nursery pigs, turning out 15,000 market hogs per year. The manure supplies nutrients for the crops.
This is a farm that operates efficiently not only because Matt is good at what he does. So are his brother and father–and their local businesses partners, he points out.
"Neither Dad, Chris nor I could run this farm as well as we do without one another," Danner explains. "I am not sure we do things better than anyone else, but what we do well is bring a team approach–both the owners and employees–to Templeton Family Farms."