Blog Entry #8: September 24, 2018
This last week I walked every field of corn. It looks like a great crop coming. We have had a deluge of moisture in September with 10 to 15 inches of rain. South of our farm towards Madison, Wisconsin, had received a lot more rain. Most of the rivers overflowed their banks.
I noticed dead corn plants scattered throughout the fields on our higher organic soil fields. They had recently died and looked like a frost had killed them, but that was not the case. We had this happen in 2015, which was also a very wet late Summer/Fall. The 2015 crop was a more severe case. In my wife's contest field, she pushed the population. The field looked great, and we were expecting to hit or exceed 300 bushels for the National Corn Growers Contest. We were so excited, but it went downhill fast when we received heavy rains for an extended period of time in September. The dead plants had a good ear on it but had small immature kernels. After talking with my BASF specialist Wade Oehmichen and from prior experience I went directly to the root crown and cut the plants open from the crown to the tassel. Root rot had set in and killed the plants. Wade explained a disease most likely had entered the plant through a damaged root. It could be caused by uneven emergence, double plants, drought or saturated soil conditions. All of which cause stress. Another reason could be the effects of refuge in the bag, which can cause maturity differences or insect feeding (root worm). This makes sense to me because of the sporadically dead plants.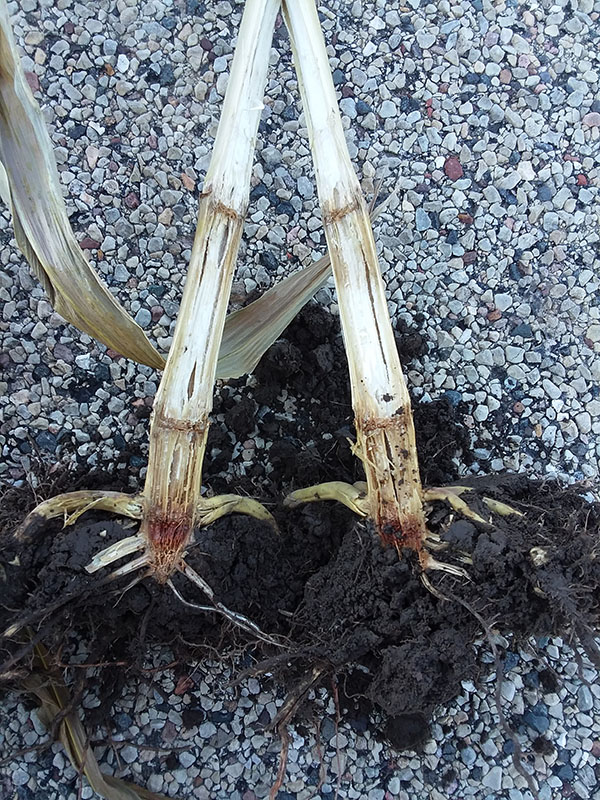 Keeping that plant healthy late into the growing season is key to high yields especially in Wisconsin because of our shorter growing season. I have seen fields that have been planted at the optimal time and stayed green late into the Fall consistently have higher yields. Using a longer lasting fungicide like Priaxor combined with all season nutrition to the plant gives that plant the ability to obtain higher yields.
My last picture represents the three stalks under irrigation vs. three plants missed by the pivot in a corner of the field. All the NPK cannot make up for water. Thank God for high capacity wells and center pivots!