The fight against one of corn's most destructive pests is a focus area for Bayer scientists. The insect's ability to adapt to various management strategies requires the constant collection and analyzing of data to build an effective arsenal for America's corn farmers. The effort is years-long and year-round. Ryan Tichich, Bayer's Corn Agronomic Systems Team Lead within North America Market Development, is no exception. Even on days when the mercury will struggle to climb into double-digit territory, Tichich has his attention focused on July – but not because he's longing for warmer weather – rather because this is when rootworm larvae will begin feeding on corn plants.
Tichich is reviewing data collected in 2021 through Bayer's corn rootworm beetle monitoring network, which includes more than 1,200 locations across the Midwest. The numbers paint a potentially troublesome picture for wide swaths of the Corn Belt during the upcoming growing season.
"During the past two years, our network has seen an increasing number of adults captured in our traps and locations above the threshold for economic damage," says Tichich. "In 2021, 38% of corn fields monitored were above the economic threshold, compared to only 22% in 2020. The table is set for another really strong year of corn rootworm pressure."
Curbing Cornworm Carnage
Few pests haunt growers' dreams like corn rootworm because its impact on a corn crop can be so devastating.
"Among all pests, I would rank it as the worst," Tichich says. "They call it the 'billion-dollar bug,' but when you add up the expense of management and yield loss, it costs U.S. growers upward of $2 billion each year."
There are four major species of corn rootworm, with western corn rootworm the most prevalent for midwestern corn farmers. As the name implies, the insect in its larval stage feeds on the roots of corn plants. The resulting damage limits a plant's ability to uptake both water and nutrients.
There are four major species of corn rootworm, with western corn rootworm the most prevalent for midwestern corn farmers. As the name implies, the insect in its larval stage feeds on the roots of corn plants. The resulting damage limits a plant's ability to uptake both water and nutrients.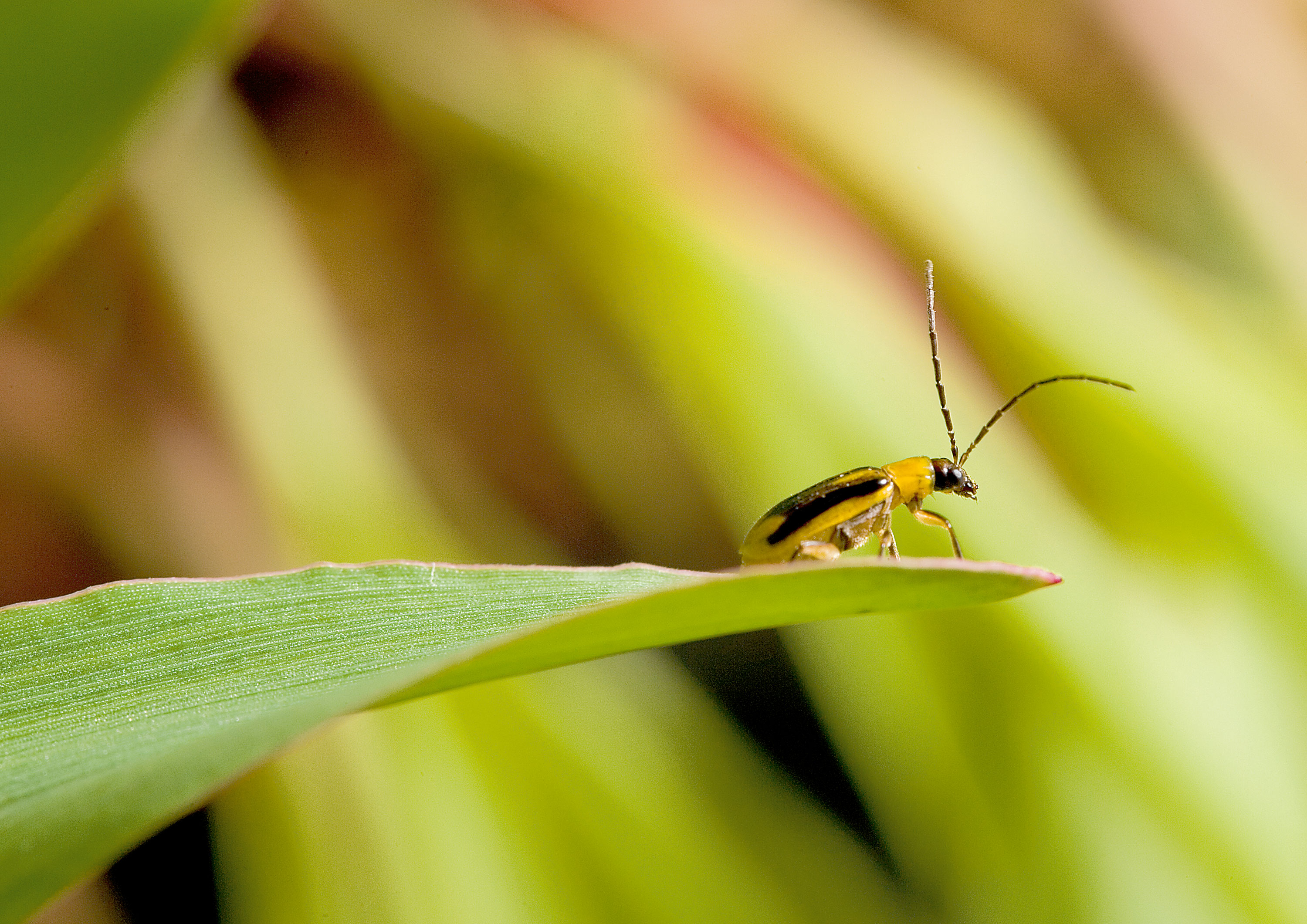 "Root damage also can lead to issues with standability and lodging of the crop, which can lead to further yield loss," Tichich explains. "Additional damage can occur if silk clipping by adult beetles occurs during pollination. With severe infestations, a grower could potentially see up to 45% yield loss."
Many factors have contributed to this rootworm resurgence during the past two seasons. Weather plays a major factor in the survival of overwintering larva in the soil. After several years of heavy spring rains suppressing populations, a lack of precipitation early in the season over the last few years has allowed rootworm numbers to rebound. In addition, planting continuous corn significantly increases the risk of infestation as well as the potential for developing future resistance to control methods, such as chemistries and biotech traits.
Because there are no effective rescue treatments once an infestation occurs, successfully managing corn rootworm requires a multi-tactic control strategy, Tichich explains. Traditionally, this includes tried-and-true techniques such as crop rotation to help disrupt the pest's lifecycle as well as the use of soil-applied insecticides.
Since 2003, growers have had access to Bt corn hybrids, which offer an in-plant defense against corn rootworm. The transgenic trait was developed by inserting a gene from a soil bacterium into the corn plant. This gene causes the plant to produce Bt proteins, which kill the pest when they are ingested.
Bt corn hybrids represented a new course of action for combatting corn rootworm. However, they only contained one Bt trait. Recognizing that pests could develop resistance to a single trait, Bayer later launched SmartStax® Technology, a pyramided trait Bt product, representing a second mode of action for corn rootworm.
Incorporating multiple modes of action has been a successful strategy for more than a decade, yet the battle against the yield-robbing pest continues. With the limited introduction in 2022, SmartStax® PRO with RNAi Technology offers growers a novel mode of action to combat corn rootworm.
"There is no proverbial 'silver bullet' for rootworm management, but this product adds a new tool to the toolbox that is going to be valuable for growers," Tichich says. "SmartStax® PRO Technology combines the stacked Bt trait protection found in SmartStax Technology with a novel mode of action based on RNA interference, or RNAi. It specifically targets corn rootworm."
Rather than adding another protein to the corn plant, which to help control corn rootworm, Bayer Scientists have added a double-stranded RNA (dsRNA). The dsRNA interferes with the corn rootworm cells "recipe" to produce an essential protein needed for it to survive.
"Once ingested, the dsRNA is recognized by the rootworm's cells as something potentially dangerous, so it activates the RNAi pathway and destroys it," Tichich explains. "In the process, though, it also destroys mRNA with the same 'recipeᄪ for that essential protein. Without the recipe, no protein is made, and the larva won't survive."
Field trials with SmartStax® PRO Technology show significantly less damage with the new RNAi technology. In 2021, Bayer compared corn rootworm damage across 40 Corn Belt locations using the Nodal Injury Scale (NIS) rating system developed by Iowa State University. The 0.00 to 3.00 scale can be used to estimate potential yield loss. The new product performed extremely well against products currently on the market.
"In our trials, SmartStax PRO Technology had an NIS rating of 0.28, whereas some of the competitive trait platforms were up around 1.0," Tichich says. "As a rule of thumb, every point on the scale equates to about a potential 15% yield reduction.3,4 It's really easy to get excited about SmartStax PRO Technology because there's a very clear improvement."
Bayer's robust research and development pipeline – supported by an annual investment of more than $2 billion – continues to deliver novel and innovative approaches to help growers succeed. Tichich says the next wave of corn rootworm control combining new proteins and RNAi technologies is already under development.
"We are constantly looking for the next generation of traits that will help solve growers' problems – both now and in the future," Tichich says. "We are also testing new genetics and new traits, along with the latest chemistries that are being developed, so that when the product goes to market, we can make a holistic recommendation on how to use the product to get the best outcome for the grower."
He adds that grower success is always top of mind when developing products.
"We continue to innovate every day, thinking about how we can help producers with all the challenges they face to drive yield and success of their operations," Tichich says. Making sure growers realize potential return on investment when they purchase our products is critical."
USDA AgResearch Magazine – May, 2013
Tinsley, N.A., Estes, R.E., and Gray, M.E. 2012. Validation of a nested error component model to estimate damage caused by corn rootworm larvae. Journal of Applied Entomology. DOI:10.1111/j.1439- 0418.2012.01736.x
3, Journal of Applied Entomology 137 (2103): Validation of a nested error component model to estimate damage cause by corn rootworm larvae. N.A.Tinsley, R.E.Estes & M.E.Gray.
4 Spike BP, Tollesfon JJ, 1991. Yield response of corn subjected to western corn rootworm (Coleoptera:Chrysomelidae) infestation and lodging. J. con. Entomol. 84, 1585-1590.
------------------------------------------------------------------------------------------------------------------------------------------
Bayer is a member of Excellence Through Stewardship® (ETS). Bayer products are commercialized in accordance with ETS Product Launch Stewardship Guidance, and in compliance with Bayer,s Policy for Commercialization of Biotechnology-Derived Plant Products in Commodity Crops. Commercialized products have been approved for import into key export markets with functioning regulatory systems. Any crop or material produced from this product can only be exported to, or used, processed or sold in countries where all necessary regulatory approvals have been granted. It is a violation of national and international law to move material containing biotech traits across boundaries into nations where import is not permitted. Growers should talk to their grain handler or product purchaser to confirm their buying position for this product. Excellence Through Stewardship® is a registered trademark of Excellence Through Stewardship.
SmartStax® PRO corn products will be commercially available for the 2022 growing season.
ALWAYS READ AND FOLLOW PESTICIDE LABEL DIRECTIONS. B.t. products may not yet be registered in all states. Check with your seed brand representative for the registration status in your state.
IMPORTANT IRM INFORMATION: RIB Complete® corn blend products do not require the planting of a structured refuge except in the Cotton-Growing Area where corn earworm is a significant pest. See the IRM/Grower Guide for additional information. Always read and follow IRM requirements.
Roundup Ready® 2 Technology contains genes that confer tolerance to glyphosate. Glyphosate will kill crops that are not tolerant to glyphosate. Herculex® is a registered trademark of Dow AgroSciences LLC. LibertyLink® and the Water Droplet Design® is a trademark of BASF Corporation. Respect the Refuge and Corn Design® and Respect the Refuge® are registered trademarks of National Corn Growers Association. Bayer, Bayer Cross, RIB Complete®, Roundup Ready 2 Technology and Design™, Roundup Ready® and SmartStax® are trademarks of Bayer Group. ©2022 Bayer Group. All rights reserved.
------------------------------------------------------------------------------------------------------------------------------------------
ALWAYS READ AND FOLLOW PESTICIDE LABEL DIRECTIONS. Bayer and Bayer Cross are registered trademarks of Bayer Group. ©2021 Bayer Group. All rights reserved.