Blog Entry #1: February 26, 2018
Winter in Wisconsin means deep snow and -20 degree temperatures. It's a great time to sit back and reflect on last year and plan for the new growing season. Our BASF Innovation Specialist had a winter seminar on fungicide and late application of nitrogen on corn. He had found out for the 2017 growing season, when the two were used together yields were 30+ bushels higher. Due to wet and colder than normal growing conditions up to September, it was looking like an average or below average yield for our area. September became the yield maker and the late application of N and fungicide gave us a good bump in yield.
Because of our wet growing season and the loss of N through leaching, we decided to apply more late nitrogen applications through the pivots and utilize our local aerial applicator to fly urea and AMS over our dry-land corn. God's gracious warm September paid big dividends on our farm. When we finished harvest it was our highest yielding year ever. 2017 is a good reminder of the importance of N management throughout the growing season. You have to be willing to adjust on the go and be flexible as conditions change.
Typically, we attend the Commodity Classic at the end of February each year to learn about new technology, products and practices, but this year we were not able to attend because of our trip to China for the adoption of our son Chet. God has called us to care for orphans and we feel blessed to be able to provide a home. We were also in China five years ago for the adoption our daughter Holly. The society has changed significantly in a short time. China is a huge player in agriculture and the world market. We thought we would share our experience and thoughts and how it will impact us in the future.
Why is China important? China has 1.4 billion people (U.S. 326 million). The cities are huge. For instance, Beijing's population is 21 million, compared to Chicago at 2.7 million. Flying out of Beijing, as far as you can see was sky scraper. The biggest change we saw was the change in diet. Five years ago, a pork stir fry consisted of cabbage and piece of pork hide. There was no beef, very little pork, and some chicken. Now the Whopper triple burgers were flowing out the door of Burger King. It was easy to find beef, pork and chicken. The Chinese have a taste for meat now. That is good news for farmers! If the trend continues for increased meat consumption, how will China keep up with the demand?
Currently the Chinese government owns all the land and buildings, and the people have long-term leases (40 to 70 years). Each area or province may have differences. From an outsider looking in, one of the obstacles China has in production agriculture is how the land has been allocated.
The land is divided into approximately 200 million households, with an average land allocation of 1.6 acres. We toured the countryside outside of Nanning, China. The land was divided into small plots that were farmed using all hand tools, and an occasional water buffalo. In the northern part of the country, the government has been consolidating small parcels into larger ones that can be farmed using modern machinery. We met a gentleman who is a plant manufacture manager for John Deere in China. He said the demand for equipment is increasing in horsepower from 25 to 50hp to 50 to 75hp. It still seems small for us, but for them it is a huge jump. He stated the consolidated land tracts will be open up to the private sector.
In the past few years with the down turn in commodity prices, there has been a lot of gloom and doom. With a population of 1.4 billion people and their changed diet, I can't see China being able to be self-sufficient in supplying their own food. I can see China being a bigger purchaser in the world grain market in the future. As U.S. farmers, we should be thankful for our country and the ability to produce and expand without strict limitations of our government. We need to look at the glass as half full and not half empty!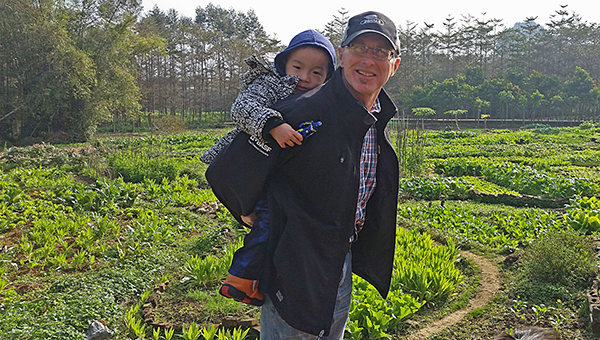 Rick and his newly-adopted son Chet in front of a farm field in China. The fields in the area are divided into roughly 1/2- to 1-acre sections.