Blog Entry #4: May 1, 2017
Weather Disruptions
By Nick Roudebush & Grant House

Spring greetings from House Family Farms! We've had a productive and eventful couple of weeks here in Central Indiana. To summarize, we finished up our pre-plant anhydrous and burndown programs, planted almost all of our corn, and had a tornado hit the farm, followed by 4+ inches of rain on top of our freshly-planted fields. Needless to say, it has been interesting.

For our burndown program this spring, we used the BASF Zidua PRO tank mixed with 2 ,4-D and Glyphosate among other chemicals. Our bean fields for this year, which are no-till, saw a great deal of early weed pressure due to warm February and March weather. Some fields were as green as we've seen them in recent years- full of chickweed, yellow-top, and other common early weeds. The Zidua PRO seems to have smoked the weeds for now, but what we are really counting on is the residual weed control that the product offers as we typically don't start planting beans until the corn is in the ground and the ground is fit. Check out this video for a glimpse of the weed pressure we were spraying.
We were blessed with a nice window of warm dry weather and were able to plant nearly our entire corn crop over the last couple of weeks. We were eager to work the kinks out of our new planter and row-starter outfit (which were plentiful). One topic of interest on our farm related to the corn crop thus far is our trial of the BASF product Xanthion, which is an in-furrow fungicide and biological intended to promote early seedling vigor. Our local BASF representative has been performing some studies of the product side-by-side with a control. The results have been quite impressive so far. Early on, the group with Xanthion showed a faster germination and root development progress (see pic below). Then, upon studying emergence to date, we had a field that showed a population of 23,000 emerged plants per acre with Xanthion vs. 7,500 emerged without (see pic below). That sure says something. Getting them out of the ground can be one of the biggest struggles, especially with 4+ inches of rain on top! We look forward to seeing how this study progresses.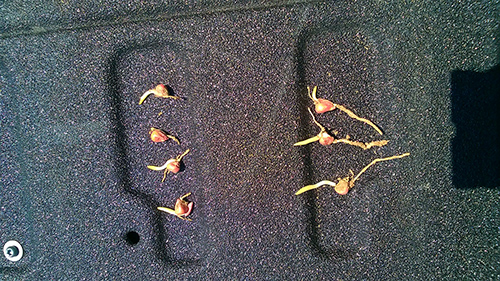 Xanthion on left and Control on right at germination.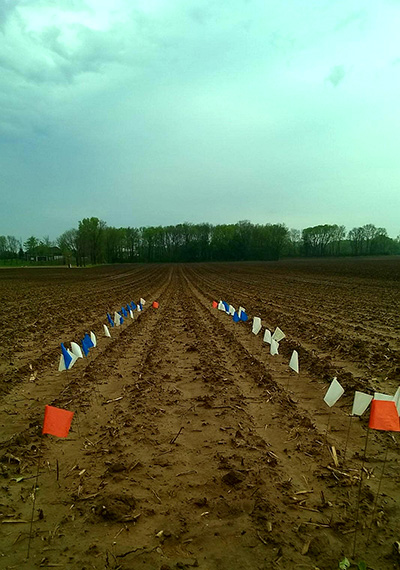 We held our own emergence study, with blue flags marking emerged plants.
Lastly, we spent the last few days assessing damage from a tornado that hit our farm directly. Last Wednesday, as we were planting our last field of corn, a tornado developed right on top of us and hit portions of our farm. It was very dry that day, so the funnel cloud quickly developed into a spinning wall of dust. Mike was in the corn planter and experience the tornado first-hand (actually witnessing the eye of the storm from the tractor cab!). We experienced damage to a straw barn (total destruction), a grain bin, and lots of roofs and trees around the area. (See pics below of straw barn and grain bin damage). We are grateful that the storm wasn't worse than it was and that nobody got hurt in the area. Now, we are just dealing with the 4+ inches of rain on our freshly planted crop- we are crossing our fingers and waiting to see how emergence fares.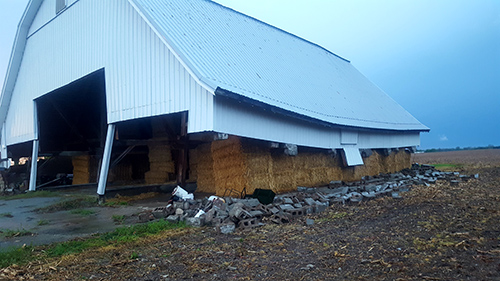 Our haybarn is a total loss after the tornado.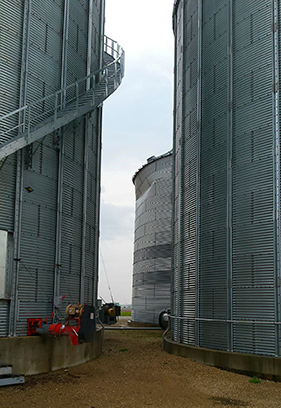 Our grain bins also sustained damage in the storm.