Blog Entry #8: September 11, 2017
Farming And Fun
Time has finally started to slow down on our operation the last few weeks, but we're still managing to stay busy. We have mainly been focused on making some last minute updates to our harvest storage facilities and doing our annual maintenance checks. We have also been making a few last passes with our irrigators. Since last month's blog, we received about 5 inches of rain and had three weeks of overcast, below average August temperatures.
After this combination, the soybean fields in our area have really taken a hit from white mold. As you know, we planned for white mold, but even with our proactive approach, the disease flared up in one field. It's not nearly as bad as it has been in the past, but it's still going to rob some yield. It would have been much worse if we hadn't stuck to our fungicide program. I estimate some fields in the area have 25% to 50% of the field affected. White mold also showed up in fields that it hasn't been seen for years.
Cooler weather has put us behind for heat units. We're going to be lucky to finish the crop before a killing frost. The forecast calls for us to be in the 70 to 80 degree range for the next few weeks. We hope the predictions are correct because our corn and some soybeans really need another month of warm weather.
The early maturing soybeans (0.6 range) have really started to turn over the last couple weeks. We have some Asgrow AG06X7 soybeans that I think will be ready to harvest in the next 10 to 15 days. Last year at this time we had already started harvesting soybeans. Most years we get started for a couple days, and then shut down for 5 to 10 days to wait for other fields to mature. This year is going to be more of the same.
This year saw a lot of spotty rains. Where rains were timely, and we have later maturing soybeans (Groups 1.4 to 2.1), fields are still green and aren't showing signs of maturing anytime soon. Hopefully this means we're able to take advantage of the August rains and will finish the last pod set completely.
Growers in our area with edible beans have desiccated them. Some fields are already harvested, but the main push will start this week.
We were able to take some time off in August. We were lucky that we never had a late season infestation of soybean aphid. There were pockets that had numbers over threshold, but we only had to spray about 200 acres. We were on constant watch for thistle caterpillars this summer, however. It's a pest we haven't dealt with for many years. They were also above threshold in some pockets and had to be sprayed.
For fun, we spent one Saturday at an antique tractor plow down. We have a local tractor club that organizes the event each year. Once the wheat is harvested, everyone is invited to bring their antique tractors and plows and spend the day plowing the field. I'm not planning to bring plowing back on our operation anytime soon, but it's fun to get out and look at all the old tractors and plows turning soil in formation. It really is something only a farmer can appreciate.
We used our Farmall H that we purchased from one of our landlords when he retired. The 3-bottom plow we pulled belonged to my grandpa. Neither had been out in years, so it was a rush the day before to get everything ready. The morning of the plow down I was still trying to find a tail wheel.
As you can see from the picture, the rig held together all day! My dad, Joe, didn't think he would come out and plow, but once we got him on the tractor we couldn't get him off.
Other highlights included attending our local town's car cruise night. Car collectors are invited to bring their classic cars to town and show them off. It's neat to see our small town Main Street full of classic cars like it used to be in the 1950s and '60s.
Football is big here in the state. We attended the North Dakota State University Bison football home opener on September 2. The Bison won! Once harvest starts, we will spend our Saturday afternoons listening on the radio.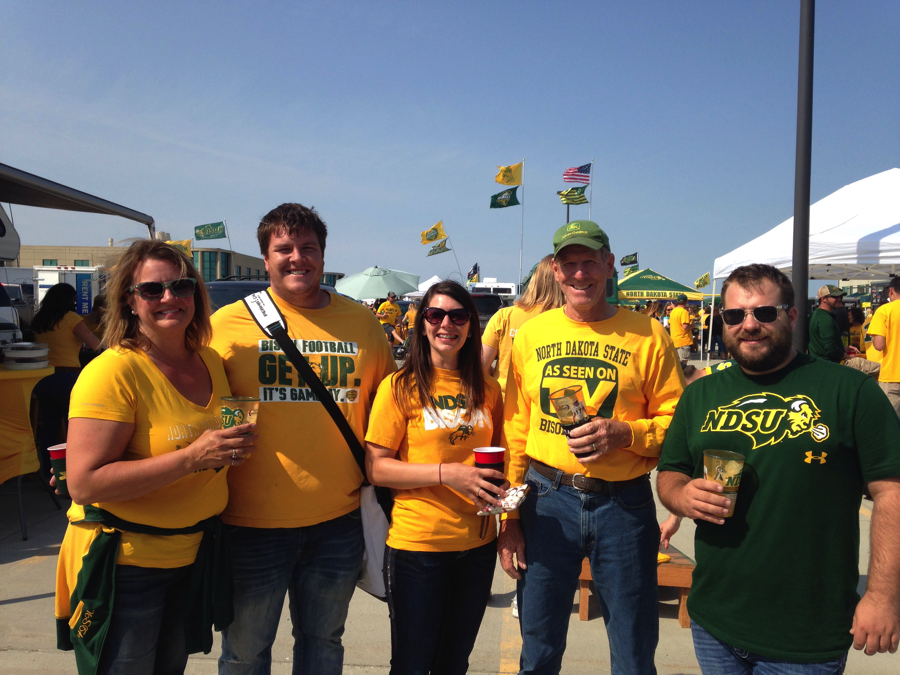 My mom, Betty, me, my girlfriend, Kellie, my dad, Joe, and family-friend, Tyler, tailgating at the NDSU Bison football home opener.
We have also taken some time to attend local seed and chemical retailers' field days. Last week Georgia farmer Randy Dowdy was in our area to speak. Listening to other people's ideas always gets our minds turning on what we can do different on next year's crop. We're excited to get this crop in the bin, and survive the year of extremes.
I hope to have a good harvest report by next month. Until then, I hope everyone stays safe during this harvest season.